Yammer
Yammer is a private, easy-to-use online social network for Curtin staff. It's like Facebook, but only people with a @curtin.edu.au email account can join.
Like other social networks, you can send and receive messages, pictures, and links or create groups, all in real time on any device. This allows you to share and learn from colleagues across different areas of the University. More than 2000 Curtin staff have profiles on Yammer, and everyone is encouraged to join and interact.
To start an account, just go to www.yammer.com, where you'll also find some short tutorials to help new users.
What's it for?
Yammer lets you communicate across and between work areas. Information can be sourced quickly: you can collaborate on projects, link to relevant articles and sites, ask questions, find expertise, and ask for feedback from people from every department, faculty and school in the University. It can increase awareness and contact between staff, reduce email volumes, help to identify common interests and encourage networking and social interaction between staff.
Groups focusing on a range of work and non-work related topics, such as a buy and sell marketplace, cycling, environment, as well as those developed around work areas are actively being used.
What's in it for me?
Yammer encourages and enables communication within and between work areas, and helps members find colleagues with shared professional and personal interests. It allows you to tap into the wealth of knowledge available at Curtin, helping you to work more productively whilst fostering a sense of community.
Once you've finished the process of signing up and creating your profile, this is what your Yammer homepage will look like. Areas are highlighted with explanations below.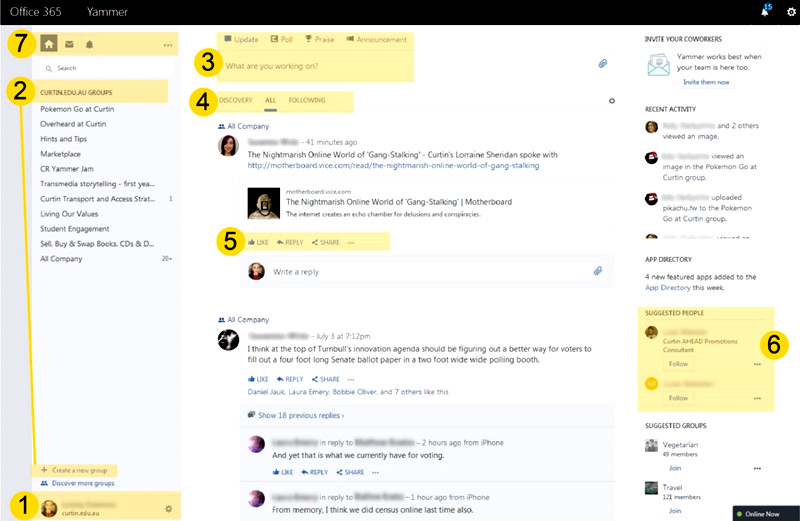 Click on your image or username to see the conversations you're involved in, your details and who you're following. You can then click on 'Edit Profile' to change your details, photo, password, email notification settings and more.
Down the left side of the page there's a list of the groups you've joined. Click on any group to see their latest conversations. You can click on the '+' sign to create your own group.
Here you can post an update, question or link to the feed.
There are three different ways to view messages in your news feed: 'Discovery' shows conversations from groups you are a part of, as well as the most engaging content from the network, 'All' is every conversation ordered with those that have the most recent comments at the top, and 'Following' is conversations posted only by people you are following.
To participate in a conversation, you can 'like' a post, which will cause the words "[your name] likes this" to appear under the post. You can also reply and add your own comment or share the post with a private group. Clicking on '…' will give you more options.
Yammer will suggest people for you to 'follow', which means their posts will appear in the 'following' tab at the top of your newsfeed. You can also follow people by hovering over their name when you see it in your newsfeed, and clicking 'Follow'.
Click the 'home,' 'inbox' and 'notifications' icons to navigate to these pages. '…' reveals options including a directory of all users called 'People Directory.'
If you can't find the right answer below, go into Yammer and ask the rest of the community – they're always happy to help.
How do I join and login to Yammer?
Go to the Yammer website and sign up with your @curtin.edu.au email address or go to the login page if you have already joined.
How do I follow other people's profiles?
Hover over any user's name in your feed and click 'Follow.' Alternatively use the '…' icon in the top left corner to navigate to 'People,' which leads to the People Directory. Follow anyone.
What messages can I see?
If you use the Home setting, you'll see all public posts from people you follow. If you use the All Company setting you will see all public posts within the Curtin network. Use the different feed options – 'Discovery', 'All' and 'Following' – to filter what content is prioritised in your feed.
What should I post to Yammer?
Yammer can be used to announce things (e.g. advertise jobs, events, websites, links and interesting news), to seek help, ask questions or share information. E.g. I am currently working on… or I am looking for information on…
How do I upload a photo in my profile?
Click on your name (bottom left of screen), Edit Profile > Browse, select a photo from your computer and upload.
How do I edit my profile details?
Click on your name (bottom left of screen), Edit Profile > Profile > then edit your contact info, summary and expertise, work history, education, etc. When you've finished, click 'Save'.
How do I send a message?
Click on the envelope icon on the tool bar in the top left corner, then on Create Message. A dialogue box will appear. Select Send via Private Message or Post In A Group as appropriate, complete the other fields and click Post to send.
How do I send a public message?
Go to your status update and type an @ symbol, then immediately type name of the person you wish to send a message to. Names will start appear as you type. Select the appropriate person and complete your message. Click on Post to send. The message will appear on the recipient's profile page, their news feed and your news feed. The message also appears on the newsfeed of anyone following yourself or the recipient. Public messages should only be used for messages that are not of a confidential nature and those you are happy for other people to read.
How do I stop receiving emails from Yammer?
To stop or change the emails you receive from Yammer, click on the cog icon on the bottom left of the screen next to your name and profile image, then Edit Settings > Notifications. You can then change the email settings to suit you.
How do I follow/un-follow someone on Yammer?
Use the '…' icon in the top left corner to navigate to 'People,' which leads to the People Directory. Hover over the Following button and click Unfollow
How do I invite others to join?
Use the '…' icon in the top left corner to navigate to Invite and then manually enter up to six email addresses of staff with the curtin.edu.au domain email address.
How do I create a Group?
To create a group, go to Create new group in the bottom left corner and enter the group details, and enter the email addresses of staff you wish to send invites to. Messages posted within a group are only seen by group members.
Will Yammer increase emails to staff?
Yammer has default email settings that can be altered by clicking on the cog icon on the bottom left of the screen next to your name and profile image, then Edit Settings > Notifications. You can then select the emails sent to you according to which notifications you'd like to receive.
Who do I ask for help?
The Curtin Yammer community is very supportive, so why not put your question up on the network? Yammer also has a useful Help Page you can access via the profile icon and some staff are willing to assist their colleagues in using Yammer. Call Ann Paterson (2972) to find out if someone in your area is available.
The short version: behave on Yammer as you usually do at work.
The long version:
Follow the Curtin Code of Conduct and the social media guidelines for staff.
Use your real name and photograph to enhance communication.
Information on Yammer is for internal use only: don't share it outside the University without specific approval from the relevant manager or director.
Yammer isn't a recordkeeping system and shouldn't be used as such. As soon as postings on Yammer become something that needs to be formally recorded (e.g. discussion leading to a business decision), then additional records must be created in accordance with the Records and Information Management Procedures and stored outside of Yammer. Under Curtin's Records and Information Management Policy, staff must create full and accurate records which adequately document business activities, significant events, decisions and the basis for making those decisions. The procedures and policy can be found on the Policy and Compliance webpage and more information can also be obtained through the Records and Information Management website.
Yammer is hosted on a multi-tenanted public cloud storage facility, located in the United States where Australian legislation doesn't apply (i.e. Privacy Amendment Act 2012, Defence Trade Controls Act 2012). In addition, data and information that travels outside Australia is subject to foreign laws. For example in the United States, information could be subject to warrantless seizure under the Patriot Act. Therefore, do not use Yammer to share confidential, personal or commercial information about Curtin, its students, its alumni or staff.
For more information on using cloud services please see the Decision Framework on the Use of Cloud Services [.PDF 127kB], and Cloud FAQ [.PDF 84kB]. If you have queries about cloud computing, please contact rim@curtin.edu.au.
House rules
Our Yammer channel is open to all current Curtin staff. We encourage you to use this community to help with your work, develop working relationships, connect with like-minded colleagues, and reach out for help where you need it. All we ask is that you remain respectful and follow these simple house rules to promote a positive online environment:
Play nice. Not much more to say: no haters, no trolling, no hijacking posts.
Play it clean. What's said here is visible to your employer, line manager and colleagues. Please keep it professional.
Play safe. Don't get too personal or belligerent, and protect your own privacy.
Play appropriately. This community is for and about your University – no spamming, unrelated or inappropriate posts please.
Please remember that there are formal avenues to give feedback at Curtin. If you have an issue, first use the appropriate channel to address your concern before posting on Yammer. We strongly encourage positive and constructive feedback when posting on Yammer. Views expressed by our community don't necessarily reflect the views of Curtin, but you know this already. While this is a closed network, please also understand that in running this channel we of course need to abide by the Curtin Code of Conduct, ICT Appropriate Use and Australian Laws regarding defamation and copyright infringements. For more information see our staff obligations.