The Marketing Communications process
The Marketing Communications process and the associated timeframes have been developed to help Areas to plan their communications activities.
The benefits of this include:
clarity of responsibilities of all parties
management of expectations
upfront agreement of outcomes
effective resource planning and control.
All Marketing Requests are to be submitted via the request form. Once received, the assigned University Marketing Consultant will be in contact to start the process.
We consider these communications projects as a partnership between University Marketing and your Area. We encourage you to work with us, providing as much information as possible on what we are asked to develop, and facilitating the internal approvals required.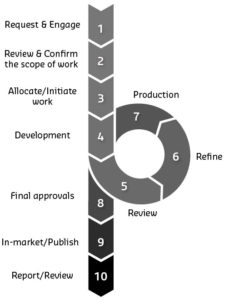 Steps
Area completes and submits a Marketing Request, providing as much detail as known (e.g. objectives, target audience, timings)
UM Consultant reviews and assesses type and scope of request. Work assigned to appropriate area – e.g. Publications, Campaigns (advertising and media) – who may request further clarification/detail
Brief agreed by both parties and briefed in to external agency partners and/or internal design team
A response to the brief is developed, e.g. new creative concept, media plan, adaptation to existing advert
Response reviewed by University Marketing and Area and assessed against the brief. Depending upon scope/complexity of work, this may involve other key stakeholders (e.g. new advertising concepts require Chief Marketing Officer)
Work is refined under direction from University Marketing based on feedback from Area and key stakeholders. This may take several rounds based on complexity, and further approval may be required before production
Once overall concept/idea is agreed, work moves into production of the final required assets (e.g. print ad, course brochure)
All final assets are reviewed (e.g. is the work on brief and on brand?) and given final approval by University Marketing and Area prior to launch. This may involve other key stakeholders based on scope/complexity
Final work pushed live into market and/or provided to the Area
University Marketing Consultant will provide a report on campaign work.
Time frames
| Item | Brief approved | Concept, design and development | Refine and approve | Production and delivery / launch | Total |
| --- | --- | --- | --- | --- | --- |
| Advertising – tier 1 | 1 week | 2-3 weeks | 1 week+ | Up to 12 weeks | Up to 3-4 months |
| Advertising – tier 2 | 2-3 days | 1-2 weeks | 1 week+ | 1-2 weeks | 4-5 weeks |
| Advertising – tier 3 | 1-2 days | 4-5 days | 1 week+ | 4-5 days | 2-3 weeks |
| Postcard/Poster/DL-4pp flyer | 2-3 days | 4-5 days | 1 week+ | 1 week | 2-3 weeks |
| Brochure – 8-16pp | 1 week | 2 weeks | 1 week+ | 3-4 weeks | 7-8 weeks |
| Brochure – over 16pp | 1 week | 2-3 weeks | 1 week+ | 4-5 weeks | 9-10 weeks |
| Pull up banners | 2-3 days | 1-2 weeks | 1 week+ | 1-2 weeks | 4-5 weeks |
| Merchandise | 1 week | 1-2 weeks | 1 week+ | Up to 12 weeks | Up to 3-4 months |
The University Marketing team are busy with a number of key projects and unfortunately capacity within the team means that we may not be able to meet the normal timeframes for certain requests. Please keep this in mind when submitting your request and if your request is urgent, please contact the relevant area Director.
Brand and Marketing – Kate Jennings
Marketing Analytics, Digital and Engagement – Sarah Moffat
Important points to note
All time frames to be confirmed between University Marketing and Area upon commencement of approved brief.
Timeframes for Refining work will be dependent upon the number of rounds required.
Many approval points are reliant on internal stakeholders so please be mindful of this when planning your work.
Production timeframes for all physical material (postcards, brochures, merchandise, etc.) will vary dependent upon quantities and availability.
All advertising Delivery/Launch timeframes subject to media availability and confirmation of bookings.
Tier 1 Advertising = new creative concept.  Development and production timeframes will vary dependent upon type (e.g. Print / Radio / TV)
Tier 2 Advertising = extensive amendments to existing artwork (e.g. new copy/image to existing layout)
Tier 3 advertising = minor amendments to existing artwork (e.g. minor copy changes such as a new Call To Action)